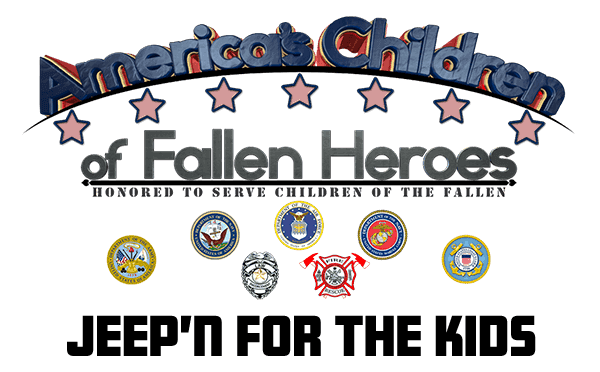 Mississippi Event on June 23rd
2018 Sponsorship
Jeep'n For The Kids Events Are...
free off-roading adventures for local communities, their military, fire departments, law enforcement, and the families we serve to enjoy the great outdoors and play in the dirt.
We have seen firsthand how getting young men and women into nature... into an adventure... has opened their minds and hearts to the bright possibilities of their future.
We're excited to share that with you, as we promote a healthy lifestyle of adventure, and work together to encourage our heroes kids to work towards their dreams.
You can help us by...
writing an EOA, donating, becoming a Hero Member, or becoming a sponsor.
Our Big Why
1. Since we've been serving fallen military families since 2000, most know about our services. However, we just recently expanded our umbrella of service to cover firefighters and law enforcement, and most departments are unaware of the help we can provide. We need to get the word out, and these events provide a wonderful opportunity for us to engage with a local community and expand at a manageable rate.
2. Every $1,000 we're able to raise supports one hero's kid through the Dream Development Project for a full year.
3. At every event we will be collecting messages of encouragement for our kids, and that goes a long way to convince them they are not alone, and that others care about their future.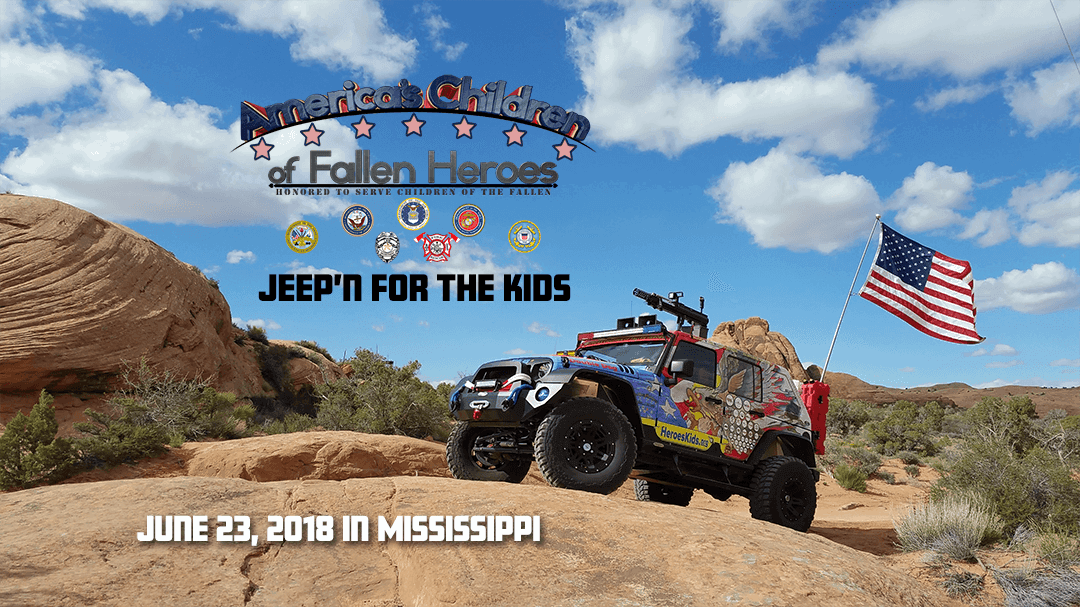 Benefits for Sponsorship
Title Sponsor $5,000.00
All benefits of the Platinum level plus,
You will be the presenting sponsor!
Your branding will be highlighted right below the Jeep'n For The Kids logo, preceded by, "Presented by".
Platinum Sponsor $2,500.00
All benefits of the Gold level plus,
You will be included on the event t-shirts made available throughout the year. We always use very high quality materials, so this is evergreen branding, lasting 1-3 years in your community.
Gold Sponsor $1,500.00
All benefits of the Silver level plus,
You will be included on all the Expression of Appreciation (EOA) Forms. This is where everyone will be writing their message of encouragement to the kids. This is extremely valuable, because your brand will be on the "take with you" portion, which everyone will be taking home and sharing with others.
Silver Sponsor $500.00
You will be included on all promotional material shared with local military, fire departments, and law enforcement.
You will be highlighted on the Jeep'n For The Kids web pages.
We will build your very own Hero Team page (see an example) that you can use to authenticate your support, and actively engage your community.
We will provide photos and videos of your sponsored event for your promotional use.
We will coordinate with your marketing team to provide social assets leading up to and after your sponsored events the the entire year.
Most importantly, you will be empowering the child of a fallen hero to build their dreams through the Dream Development Project.

America's Children of Fallen Heroes, a Quietly Working Foundation, is a  501(c)3 non-profit foundation. Your donation is tax deductible to the extent of the law.
Our Federal Tax ID 20-5149597
Donations of any amount are appreciated. Thank you for supporting the children!
Credit card receipts vary, but you should see The Quietly Working Foundation, America's Children of Fallen Heroes, or Thank You for Your Donation on your statement. Please call/text/email us if you have any questions.
By Phone:
(773) 234-KIDS (5437)
Call us… We would LOVE to talk to you

 and we can take secure donations over the phone.
If we are in the office, we'll pick right up, but we're on the road a lot, so please give us 24 hrs to respond if you leave a message. Thank you very much!