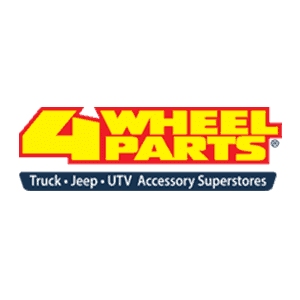 When 4 Wheel Parts opened its doors in 1961, the motto was "Quality Parts, Lowest Prices, Fastest Service and Fully Guaranteed." Powered by that attitude, 4 Wheel Parts grew from a one-person operation to the global leader in truck, Jeep, SUV and off-road performance products. Today, 55 years later, our customers still demand superior service — and we strive to deliver at every opportunity. Visit history of company to learn more about the history of 4 Wheel Parts.
91 Stores
4 Wheel Parts has a nationwide chain of retail stores and service centers. Drop in to one of our 73 stores across North America to check out product and get personalized advice and service. Visit our store locator page to find a store near you.
6 Distribution Centers
We specialize in getting off-road parts to you quickly. We do this by stocking inventory in six distribution centers located around the country. Learn more about our distribution centers.
$100 Million in Inventory
Our on-hand inventory consists of over $100 million of off-road parts from roughly 600 manufacturers. When you need an off-road part fast, we're your best resource.
3 Ways To Shop
Shop with us anytime, on your schedule. Browse 4WheelParts.com, call our customer service center, or come visit us in one of our stores. You can even save on shipping costs by shopping online and picking your order up in a store. No matter which method you prefer, we're ready to help with excellent parts, advice, and service.
Service
Our stores are staffed with ASE-certified technicians who can install every product we sell. You'll also receive friendly and knowledgeable service when you call our Customer Service Center for orders and information.
Everyday Low Prices
We are committed to providing you with quality products at great prices. Our size and status in the industry gives us access to special deals that we pass on to you. We also pledge to match any legitimate advertised price, through our price match guarantee match guarantee program.
Expert Advice
4WheelParts.com contains many resources to help you choose and install the right parts and equipment. Watch videos, read articles, and browse product reviews. Visit our Expert Advice page to learn more
Customer Testimonials
We encourage our customers to share their experiences with us through social media sites and product reviews. Read what people are saying about 4 Wheel Parts.
Better Business Bureau — A+ Rating
4 Wheel Parts maintains an A+ rating with the Better Business Bureau (BBB). We pride ourselves on being a trustworthy partner and resource for the off-road community.
What Team 4 Wheel Parts Has Accomplished In 2018
3 EOAs Collected
Expressions of Appreciation (EOAs) are short messages of encouragement from Americans (like you!) to the heroes kids. Let them know they haven't been forgotten, someone cares, and that there's hope for their future.
0 Hero Members Recruited
A Hero Member is anyone who contributes $1 or more per month. Hero Members are very special, because their consistent support enables us to provide the long-term support that our kids deserve and need.
$500 Funds Raised
Every dollar counts and empowers us to serve more families. Thank you for your care and support of our work.
A big thank you to the San Antonio store for their generous $500 donation.
Interested in Making a Difference?
[gravityform id="8″ title="false" description="false" ajax="true" tabindex="10″]
Hero Team Leaders & Updates